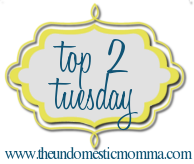 1. Nikon D5000:
I am so in love with this camera and the awesome pictures I can get with. It makes a world of difference in the pictures of Ry, and it was such a great gift. Thanks, Babe!
2. Pioneer Woman Cooks:
My bought this for me as a housewarming gift when we moved into our house, and I absolutely adore it. She is a woman after my own heart, and I swear Trey and Marlboro Man share the same soul (and stomach) because they love and hate all the same things. There is not a better cookbook out there for me!
Tweet